Networks and Computer Systems

IntegriCom® engineers think strategically about your needs. We install and manage all of the leading technologies for networks, servers, and workstations. With regular maintenance of your network, your people will be more productive. Your frustration will vanish as your system stays up and safe…and your support costs decrease and become predictable. We even guarantee that you will understand your IT budget.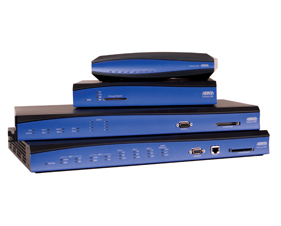 IntegriCom monitors and acts, dramatically reducing your downtime and your need for involvement. Many issues will be resolved during off-hours before your next business day. This also reduces your IT-related costs. So for less money, you receive Fortune 500 level expertise and technology that even most small IT companies cannot afford.
ADTRAN is an exceptional value for networking equipment. The beauty of ADTRAN's NetVanta line is an all-in-one package that can scale up as your company grows. So the technology doesn't continuously occupy your thoughts. You focus on your business, and the technology is there to support you.
The Advantage to IntegriCom Network Services
We Provide
Advanced technology
Quality you expect
Small budget fit
You Receive
Great Features
Reliability
Value
Does network downtime affect your company?
The Obvious
No Internet
No email
No website
No e-commerce
The Hidden
Slower client services & support
Slower sales
No order entry
Productivity issues
No payroll
No accounting or finance
No access to client data/CRM/ERP
No printing
No telephone (VoIP)
No access to files
Compare other IT companies to IntegriCom?
Typical Frustrations
It takes too long to get a Tech on the job…and too long to fix the problem.
Tech services are not proactive.
We get a Level 1 Tech when we need a Level 2/3 Tech with real knowledge.
IT requires too much management time.
Our Reliable Approach
We proactively monitor, predict your problems, solve them remotely, always answer our phones, and go onsite when called upon.
We prevent the problems in the first place.
All of our Techs are Level 2/3.
We act as your IT manager…you're free to do other things.

t