Telephone Systems

Gain convenience and cost savings. Integrate Voice over IP (VoIP) into your network with a feature-rich, enterprise-class VoIP phone system. We provide a low cost of ownership and an economic path for employee growth. IntegriCom® can also work with your existing PBX to send voice traffic between multiple offices.
This system is the ideal solution for businesses that have 3 to 250 stations at each location. Very affordable and scalable for even small companies. With our "Office in a Box," all you need are cables to your desktop…and we have those on our truck.
Make your communication network flexible and affordable
Significantly lower your initial and ongoing costs
Provide feature-rich, standards-based solutions that scale
Resolve complicated network issues
Gain years of reliable service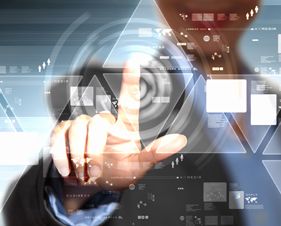 Whether you are replacing a PBX or key system or establishing a new location, you can lower your Total Cost of Ownership (TCO) with the NetVanta 7000 Series.
You achieve cost savings by consolidating voice and data networks, reducing monthly service charges, and eliminating expensive add-on phone and voicemail licenses.
Features and Benefits
Affordable and cost-effective IP PBX for small to medium offices
Consolidates trunks, lowers recurring expenses and toll charges
No phone or voice mail licenses required
Supports Voice Quality Monitoring (VQM) and Mean Opinion Score (MOS) reporting
Reduces the need for network readiness assessments
Simplifies IP convergence by combining multiple functions in one compact platform
Simplifies cabling and sparing, conserves space
One management system for setup and admin with point and click Moves/Adds/Changes
Voice-data convergence without compromised functionality
Multi-level auto attendant
Technical Specifications
Shared Line Appearance (SLA)
Dial by name directory
802.3af Power over Ethernet (24 ports)
Integrated 24-port PoE switch, feature-rich IP router, IP PBX (100 SIP stations)
Supports ADTRAN IP 706/712 and certified Polycom phones
SIP/PSTN Gateway Internal voice mail
Stateful inspection firewall VPN (5 tunnels)
URL filtering
Wi-Fi access controller for NetVanta wireless access points
Layer 2 and Layer 3 QoS VQM and MOS
Music-on-hold input, paging output, door relay
Graphical User Interface (GUI)
Industry-leading North American five-year warranty
---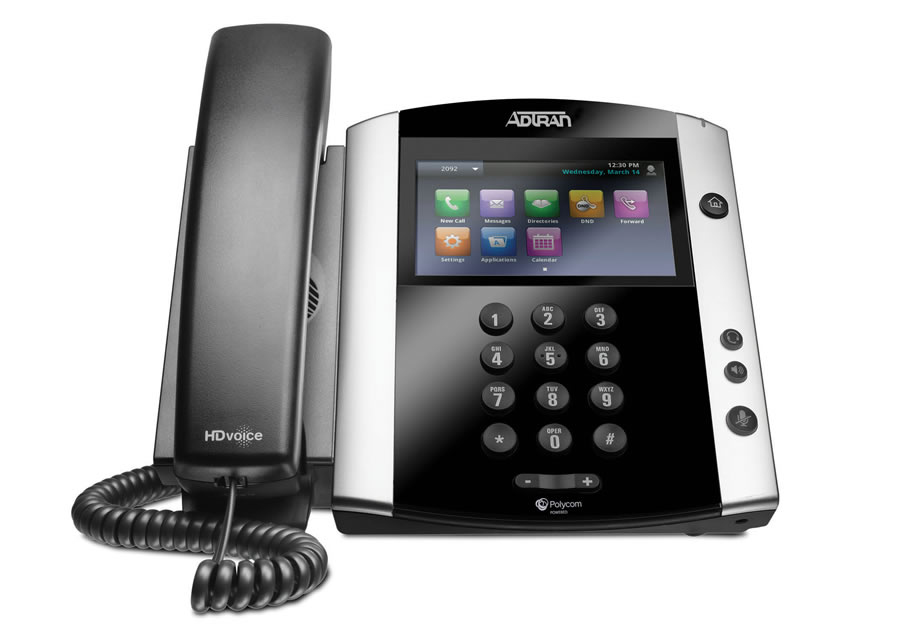 The new VVX Series of phones builds on the ease of use of smartphones and tablets. They increase employee productivity through improved interaction with computer applications. VVX phones are stylish, easy-to-use, business-class VoIP phones that will fit most any requirement and budget.
Both the 6-button and 12-button phones have large backlit displays. These SIP-based phones support advanced functions and deliver unsurpassed quality and performance. They are compatible with ADTRAN's IP Telephony, IP Business Gateway, and PoE Switches. Polycom phones are also supported.
Features and Benefits
Affordable desktop IP phone
Powerful, expandable, yet intuitive
Easy to use, manage, and make changes
Quick set-up
Web-based user administration
High definition voice, speakerphone
Includes key system functionality
Technical Specifications
Instant Messaging status display
View and manage Microsoft calendars
Shared call/bridged line appearance
Multiple call appearances
Call transfer, hold, forward
Called, calling, connected party identification and information
One-touch speed dial and redial
Local three-way conferencing
User-configurable contact directory and call history (missed, placed, and received)
Distinctive incoming call treatment/call waiting
Do Not Disturb function
Call timer
Large backlit graphical display